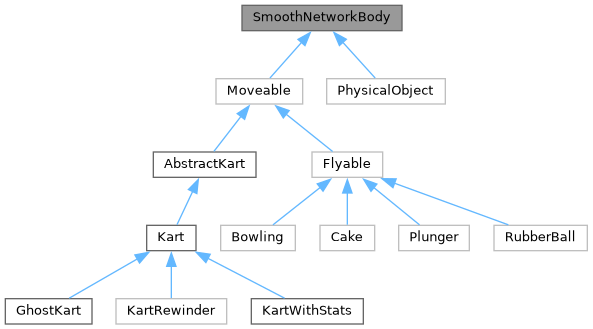 [legend]
 
SmoothNetworkBody (bool enable=false)
 
void 
reset ()
 
void 
setEnable (bool val)
 
bool 
isEnabled () const
 
void 
setSmoothRotation (bool val)
 
void 
setAdjustVerticalOffset (bool val)
 
void 
prepareSmoothing (const btTransform &current_transform, const Vec3 &current_velocity)
 
void 
checkSmoothing (const btTransform &current_transform, const Vec3 &current_velocity)
 
Adds a new error between graphical and physical position/rotation. More...

 
void 
updateSmoothedGraphics (const btTransform &current_transform, const Vec3 &current_velocity, float dt)
 
void 
setSmoothedTransform (const btTransform &t)
 
const btTransform & 
getSmoothedTrans () const
 
const Vec3 & 
getSmoothedXYZ () const
 
void 
setMinAdjustLength (float val)
 
void 
setMaxAdjustLength (float val)
 
void 
setMinAdjustSpeed (float val)
 
void 
setMaxAdjustTime (float val)
 
void 
setAdjustLengthThreshold (float val)
 
enum  
SmoothingState { SS_NONE = 0, SS_TO_ADJUST, SS_TO_REAL }
 
std::pair< Vec3, btQuaternion > 
m_start_smoothing_postion
 
Client prediction in networked games might cause the visual and physical position to be different. More...

 
std::pair< Vec3, btQuaternion > 
m_adjust_position
 
Vec3 
m_adjust_control_point
 
std::pair< btTransform, Vec3 > 
m_prev_position_data
 
btTransform 
m_smoothed_transform
 
float 
m_adjust_time
 
float 
m_adjust_time_dt
 
SmoothingState 
m_smoothing
 
bool 
m_enabled
 
bool 
m_smooth_rotation
 
bool 
m_adjust_vertical_offset
 
float 
m_min_adjust_length
 
float 
m_max_adjust_length
 
float 
m_min_adjust_speed
 
float 
m_max_adjust_time
 
float 
m_adjust_length_threshold
 
◆ checkSmoothing()
| | | | |
| --- | --- | --- | --- |
| void SmoothNetworkBody::checkSmoothing | ( | const btTransform &  | current_transform, |
| | | const Vec3 &  | current_velocity  |
| | ) | | |
Adds a new error between graphical and physical position/rotation.
Called in case of a rewind to allow to for smoothing the visuals in case of incorrect client prediction.
◆ m_start_smoothing_postion
| | |
| --- | --- |
| std::pair<Vec3, btQuaternion> SmoothNetworkBody::m_start_smoothing_postion | private |
Client prediction in networked games might cause the visual and physical position to be different.
For visual smoothing these variable accumulate the error and reduces it over time.
---
The documentation for this class was generated from the following files: